Car and Automotive Lock Repair Services
Keymax OnTheGo Key and Lock Repairs Get you Back on the Road Fast.
No matter your problem our certified expert locksmiths will repair it quick. Call Toronto's #1 Master Locksmith for reliable service with no hidden fees. For over 15 years we've provided fast and reliable car lock repair services in Toronto and the surrounding areas using the latest non-destructive techniques.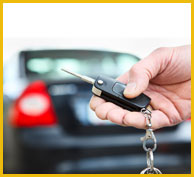 Our Certified Expert Locksmiths Can Help You With: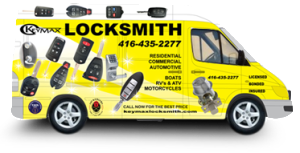 Broken and lost car keys – *Buy Direct and Save with Keymax
Broken or faulty car locks
Locked out of your vehicle
Key won't turn or fit in the ignition
Transponder key problems
ECU programming and much more.
Fast and Easy Car Lock Solutions Roadside locksmith services.
We have extensive experience with vehicle entry, cutting new car keys and
transponder key
programming. If you require emergency assistance one of our fully trained and experienced car locksmiths will have you back on the road in no time.
We offer a mobile broken car lock repair service to GTA and surrounding areas.
Wherever possible damaged car locks will be repaired on site or a replacement car lock installed. Our mobile broken car lock repair service is cheaper and more convenient than most repair garages. If you have different keys for the door locks or your ignition, we can remove the odd lock and re-order the pins or wafers to make it match the other locks.
We supply assistance for all high security car lock and central locking mechanism problems as well remote locking device issues.
Broken car keys that are stuck in the vehicle lock or ignition can be extracted by one of our car locksmith's and a new replacement car key cut on site.
We offer a mobile ignition replacement service to the general public and motor trade. more below about how we can assist with ignition lock problems.
Key will not turn in the ignition
If your key will not turn in the ignition, we can remove the ignition barrel and disassemble it to find the cause and repair the problem. If repair is not possible we can supply and fit a replacement ignition to your vehicle.
During the summer months air conditioning and high temperatures can cause many ignitions to jam up. This is very common with most Ford GM's and Chrysler. A jammed focus ignition can be repaired on-site by one of our locksmiths.
Key will not go all the way into the ignition
On some makes of vehicle a problem may arise that prevents the key from fully entering the ignition barrel. This is quite common with certain models of Peugeot and prevents the ignition from turning. We can solve this problem with no ignition removal required. If the ignition is beyond repair we are happy to offer an ignition replacement service.
Advanced Key Cutting Machinery to Save you time and Money
Waiting for main dealers to replace keys can be time consuming and costly. For this reason we have invested heavily in specialist decoding machinery that enables us to cut and program new keys for the majority of cars at the roadside.
KEYMAX LOCKSMITH Mobile Car Key Programming Service. Most cars produced and sold since 1995 are legally required to be fitted with an immobiliser system. These cars require a transponder key with an embedded electronic transponder chip to start the vehicle. When the key is turned in the ignition the code is read and the vehicle will only start if the correct code is received. This system was introduced to reduce vehicle crime and prevent cars from being started without the correct key. A broken or lost transponder car key will result in the vehicle not starting upon turning the key in the ignition.
Toyota ECU Reset service and Toyota grey key duplication where no master is available
4 Track and High Tech keys for most European and Australian vehicles
Automotive keys cut/locks repaired or supplied
We at Keymax Locksmith technicians are able to offer an immobilizer and ECU reprogramming service. If you have a customer who has lost keys for a Toyota, Lexus, Honda,(red key system) BMW, system 1 Volkswagen, Audi, certain Mitsubishi, and certain Hyundai vehicles, we are able to either Reprogram it back to factory original condition, (automatic registration mode) add a key directly to the ECU or extract the security code needed to program the keys with the use of a diagnostic scan tool. In certain vehicles we are also able re-link an immobilizer ECU back with it's main engine ECU to save the cost of having to purchase a new immobilizer and engine ECU set from the dealer.
For Vehicles of All Types
Affordable Keys and Remotes for All Makes and Models
Audi, BMW
Acura
Chevrolet
Chrysler
Ford
GM
Honda
Hyundai
Nissan
Toyota
Volkswagen
Volvo
The KeymaxSECURE Advantage – We Have You Covered
Fast & Reliable Service
We will have your car open in the shortest possible time
No Damage
to your vehicle or wallet.
Cutting Edge, State-of-the-Art Machinery
Find out why other Locksmiths companies use Keymax.
Certified & Experienced Experts
With over 15 years of experience ready to assist your every need.
Honesty and Integrity
No hidden fees and we stand by the quality of our work.
Full Service Security Company
From Cars, Commercial, Homes, and more…
Deal Direct with Keymax Locksmith and Save
Trust the locksmiths, other locksmiths rely on when they want the job done right.
Contact Keymax Locksmiths
We care about your security – for quick and reliable service with affordable rates, call now to speak with a Certified Locksmith

Speak to a Certified Locksmith – 416-629-5636